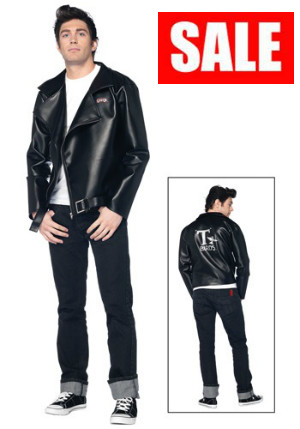 Celebrate your upcoming Halloween party in style with a Danny Zuko costume inspired by the classic film Grease! Back in 1978, a young actor named John Travolta played the cool Fifties Greaser Danny Zuko in the hit musical film Grease. Moviegoers enjoyed the cinematic time warp back to the Fifties filled with likable characters and catchy musical numbers, making the nostalgic movie an instant hit! If you want to dress up as an iconic 1950s movie character for Halloween, you will want to buy Danny's Thunderbirds Jacket. It's never the wrong time to produce a Grease musical so this outfit is also great for plays and musical numbers. You can pair this costume with the character's girlfriend costume, Cool Sandy, which was played by singer Olivia Newton-John. But if you are going solo, this jacket will turn you into a chick magnet at your next costume party! The '50s Danny Greaser costume features the faux leather with a "Grease" applique and a screen-printed "T-Birds" logo on the backside. This is an officially licensed 1978 Grease movie item. Grease movie costumes are timeless outfits that are never going out of style!
Best Grease Danny Zuko Thunderbirds Jackets
Plus Size T-Birds Jacket
2X – 3X

Kids Grease T-Birds Jacket
X-Small – 2X Large
| | |
| --- | --- |
| Adult T-Birds Jacket | Sandy's T-Birds Jacket |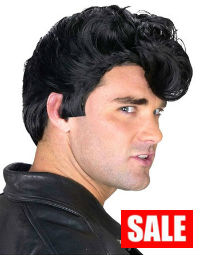 The Plus Size Danny T-Birds jacket will fit the big guys who need a size ranging from 1X to 3X! So everyone can join in on the fun! If you are going as a couple, have your lady dress up as Bad Sandy in her own Thunderbirds jacket! If you want to complete your Danny costume, we recommend this cool Greaser Wig. With this black '50s wig, you can rock out in your Fifties leather jacket and sing your favorite songs from the musical as an official Thunderbird.
If you want to read a little Grease trivia, here is an interesting movie fact. Originally the film producers of Grease were courting actor Henry Winkler to play Danny Zuko. If you remember during this time period, Winkler became the hit star of the classic sitcom Happy Days in which he played a cool and popular Greaser character named Fonzie. The show was set in the 1950s just like Grease. For obvious reasons, Henry Winkler turned down the movie role because he didn't want to replay the same character archetype and be typecast as a 1950's hood. So actor John Travolta ended up becoming the leading man. When you look back, can you imagine the actor who played the Fonz singing "You're the One That I Want" with Olivia Newton-John at the end of Grease? Now it's your chance to recreate this fun and exciting music scene for your next Halloween costume party!