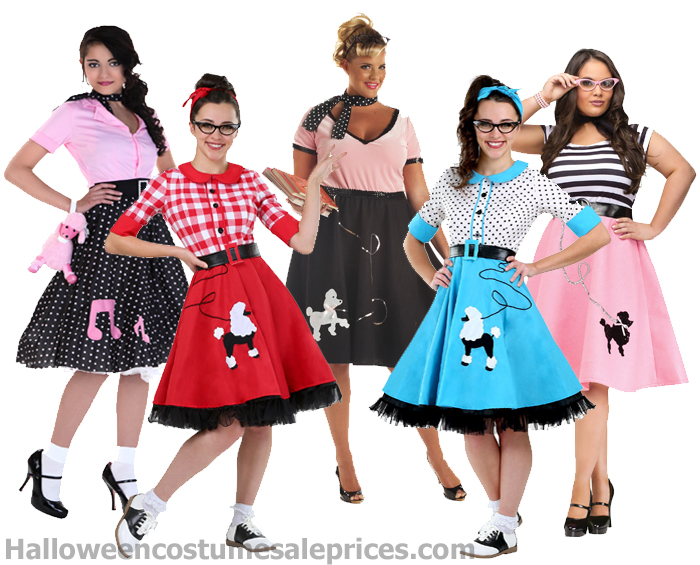 If you are still brainstorming for Halloween costume ideas, look to the past for some great outfits! Many things may have changed greatly over the decades, but you still drive by reminders of the past when you visit classic places like an old-school diner and drive-in from the 50s. If we take a nostalgic stroll back to the Fifties, we tend to remember the music and fashion style that the post-war baby boomer generation grew up with. There were many iconic fads from that time such as the soda fountains, roller skates, jukeboxes, vinyl records, and American Bandstand on television selling rock and roll to the new generation. Through radio and television, high schoolers got into the music and fashion trends. One of these trends was the fashionable poodle skirts which were worn by High School girls in classic Fifties television shows and classic movies, including Grease, Peggy Sue Got Married, Go Johnny Go, and Hairspray, just to name a few. Today, these poodle skirts are popular retro costumes for Fifties dance parties, musicals, and Halloween. Now you can rock and roll to the beat of your favorite music tunes with one of these many beautiful 50s poodle skirts found right here!
Plus Size 1950s Poodle Skirt Costume Ideas for Halloween 2023
'50s Plus Size Poodle Skirt in Red

---

'50s Plus Size Poodle Skirt in Blue

---
1X-3X Plus Size Black Dress

---

1X-3X Plus Size Pink Poodle Skirt

---
Other Fifties Dresses for Full Figured Women
1X-5X Plus Size Retro Dress

---

1X-4X Fifties Soda Pop Diner Dress

---
These plus size poodle skirts are flattering with their full hemline. The contrast between the full hemline and the waist helps create a pleasing silhouette. A belt at the waist helps draw the eye in to increase the effect. Find the right size for a plus size poodle dress is relatively simple. For a full circle skirt, you only need to worry about the waist measurement and the length of the skirt as the fullness of the skirt will fit most hips. If the skirt isn't a full circle, you also need to take a hip measurement. If you want to put on a petticoat underneath the skirt, a full-figured woman should avoid any extra fullness in the hip area. To prevent any unwanted fullness in your hip area, you should make sure the petticoat ruffles are on the lower half so then the fullness will be at the hemline.
Remember that when the skirt is held out with a full petticoat, it will appear shorter so have this in mind when you decide on the length of your '50s skirt. Also, a poodle skirt that is slightly below the knee is the most flattering length for women. Because most of these skirts are made from a full circle of fabric with a circle cut out for the waist, the skirt flares out around the dancer when a woman dances and the fluffy petticoats underneath help fluff it out even more.
These types of skirts are also called hop sock skirts which had other animal appliques like dogs, There are simple and highly useful tricks to creating a more rock'n roll style to any 1950's hop sock skirt. You can enhance your hop sock skirt with a number of tops, from a blouse or a sexy off-shoulder blouse to a long sleeve shirt or a cardigan sweater. To achieve that ultimate nostalgic Fifties appearance, you'll want to wear a neck scarf around the neck and a pair of black framed eyeglasses. To complement the skirt, a cotton blouse or a sweater is often worn and the girl ties her hair into a ponytail with a ribbon for that extra retro look. Then throw on some white bobbysocks and saddle shoes to complete the Fifties outfit so you'll be ready to swing and dance to some rock 'n' roll all night long!
The many classic skirts will instantly bring you back to the old days where retro Fifties skirts and '50s jukebox music were both regarded as cool. Remember the most important thing to do is to smile and have fun while you hip-hop in your new retro poodle skirt to your next musical number, 50s theme party, retro dance event, or costume party for Halloween night!