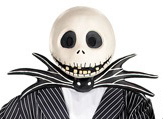 The biggest baddest bag of bones in the cemetery is Jack Skellington, but he isn't really scary once you get to know him. If you are a fan of Tim Burton, you will know that this spooky character from born from the creative mind of this eccentric film director. Jack Skellington is the charismatic undead skeleton, from the animated musical movie, "The Nightmare Before Christmas". He can dance, he can sing, he can even "take off his head and recite Shakespearian quotations, this hero of Halloween Town is quite a Renaissance guy – err, skeleton. A mixture of scary and silly, wearing a Jack Skellington costume is a real scream! The Nightmare Before Christmas was theatrically released back on October 29, 1993, just before Halloween. Now celebrate the movie's 27th anniversary by suiting up in your own Jack Skellington Halloween costume! Female Jack Skellington costumes are also available for women too so everybody can dress up as this iconic Nightmare Before Christmas character!
Jack Skellington Costume Ideas
| | |
| --- | --- |
| Adult Jack Skellington Costume | Kid Jack Skellington Costume |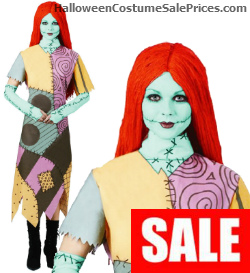 Also known as the Pumpkin King, Jack can make grown men scream just at any little things. This makes wearing a Jack Skellington costume so fun for Halloween parties or Disney dress-ups. Available in sizes to fit boys and men, a Jack Skellington costume typically features his signature black and white pin-striped jacket with tattered and torn tails in the back along with matching trousers. It's a formal look, but one that's got a bit of dust and age on it. A white ascot and distinctive bow tie resembling a spider are provided to replicate his wild and dramatic style. Add face paint with the look of a skull or a Jack Skellington costume mask with exaggerated black Jack 'O Lantern features for the total "The Nightmare Before Christmas" vibe. In some parts of the animated movie, Jack is dressed up as a scarecrow with a pumpkin head — just mix together the appropriate parts of both of these common Halloween costumes. In other scenes, a Jack Skellington costume is created from a really tall and skinny Santa suit!
When dressing up in a Jack Skellington costume, get a group together do dress as the whole "Nightmare Before Christmas" gang such as girlfriend Sally, dog Zero, or bad guy Oogie Boogie. Sally, Jack's love interest, is a rag doll type character with detachable limbs – her creator was Dr. Finklestein of Halloween Town. Her Sally costume features a hodge-podge, patchwork dress and long red wig with doll-like make up with harried, sloppy stitching. Zero, Jack's pet, is a ghostly little yapper –his costume is easy to make, just throw a white sheet over your dog and give him a glowing red nose. If you're ready for action in your Jack Skellington costume, then a battle with Oogie Boogie, the resident evil, is inevitable – of course his Nightmare Before Christmas costume is a big, boogey-man blob of white – almost like an evil Pillsbury doughboy! Have fun in your Jack Skellington costume.