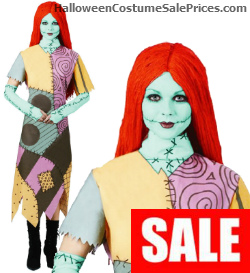 Celebrate the 25th anniversary of The Nightmare Before Christmas movie this Halloween by dressing up as one of the movie's most iconic characters: Sally who is the lovable rag doll monster created by Dr. Finkelstein in Tim Burton's classic film dating back in 1993. She is the perfect female Frankenstein monster that you an dress up for Halloween! Based on the memorable character, this adult Sally Halloween costume features a patchwork print dress with long red wig and fingerless gloves. An official Disney movie costume. Size Large 12-14. Plus Size is also available. Check below for details.
See Today's Best Sale Prices Below!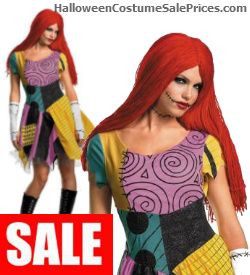 This is the sassier version of the Sally costume from The Nightmare Before Christmas. This sexy Sally costume features a patchwork dress with a higher hem, light gray petticoat, stylized stitched glovettes, and red ragdoll wig. Pair this up with a Jack Skellington costume so you can go as a couple on Halloween night.
See Today's Best Sale Prices Below!